Hausmann Econo Electric Hi-Lo Mat Platforms
Power height adjustment from 20″ wheelchair height to
29″ high.
Two direct drive, synchronized lift mechanisms for greater
power. 600 lb patient lift capacity.
Tear resistant, seamless nylon-reinforced vinyl upholstered
top with 2″ high-density urethane foam padding for
comfort and rounded corners for safety.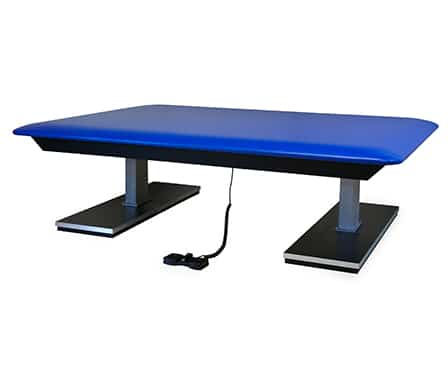 Power height adjustment from 20″ wheelchair height to
29″ high.
Two direct drive, synchronized lift mechanisms for greater
power. 600 lb patient lift capacity.
Tear resistant, seamless nylon-reinforced vinyl upholstered
top with 2″ high-density urethane foam padding for
comfort and rounded corners for safety.
Sturdy black laminate base with leveling legs.
"Hands-free" foot control.
Hospital grade plug.
Patient lift-friendly — no shelf or obstructions underneath.
110V, 60Hz, 1.3 Amps.
Upholstery: Choice of (4) nylon-reinforced vinyl colors